New Feature: Sandbox Player Name Autocomplete
One of the most-requested features is finally here: player name autocomplete in the Sandbox! Read on to see how it works.
Posted:

Jan 23 '22
For a long time, I have wanted to add autocomplete to the Sandbox . I kept putting it off in lieu of more pressing features but it is finally here!
This brief post will go over how the feature works and show some tips for getting the most out of it.
How It Works
It's pretty easy: just start typing a player's name as it appears in game. As you type, you'll see options appear. The list is limited to 10 names, so if you don't see the player you want to select, add in their year or team to filter it down more.
Let's walk through an example. Let's say I'm a White Sox fan and I'm trying to track down Avisail Garcia's 2018 card. I'll start typing out his name. A list of options appears: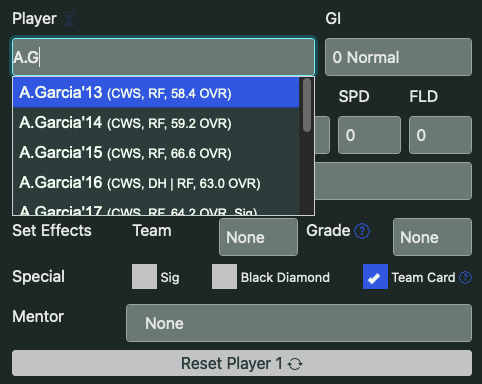 I don't feel like scrolling so I just type out the rest of his name, and I add in the year I want, to be specific. But there's a problem: Aramis Garcia also had a card that year.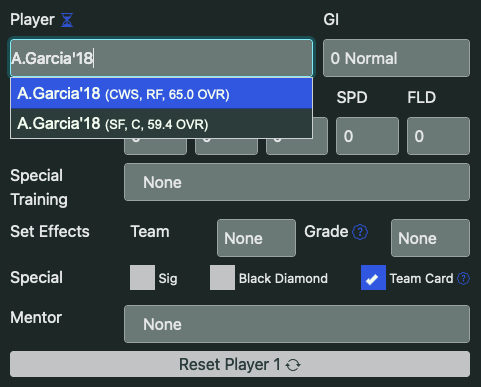 In this case, you'd just tap the one you want. But to demonstrate the feature, I'll also type in the team of the card I want: CWS. This removes Aramis Garcia's SF card, leaving just the card I want: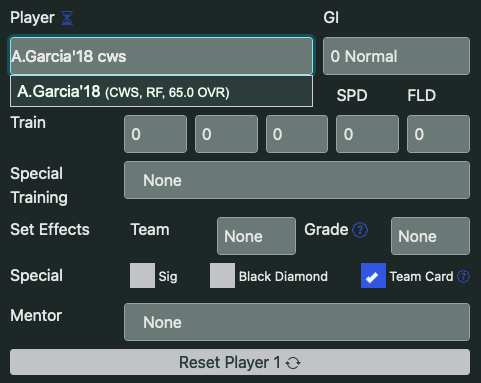 I can click on the option or hit Tab to select it. Selecting an option from the dropdown is important. If you don't actually select the option, your choice won't be saved and the Sandbox won't recognize your input. You'll know you've selected an option when the blue flashing hourglass is replaced with the green person icon next to the "Player" label: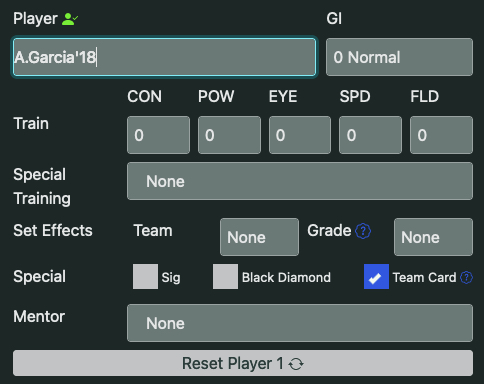 Because the autocomplete search is fairly greedy, you can be quite vague with your input. For example, "A.G'18 CWS" will find Avisail Garcia's 2018 card. I've noticed I can often get away with just typing a few characters from a player's name, particularly if I include a team or year as well.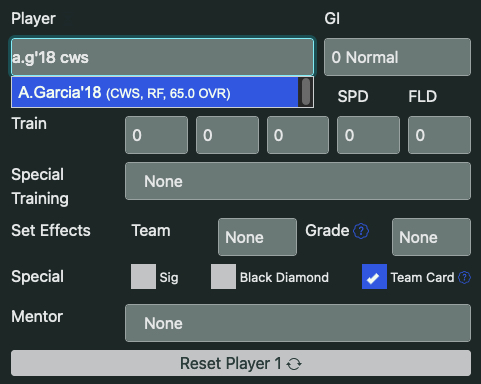 Extra Info to Help You Pick
The autocomplete dropdown also includes extra info about the card to help you pick the player you intended. Each player will include their team, position(s), base OVR (assuming that information is populated in the Registry). The dropdown will also say "Prime" or "Sig" if the player has those options for that year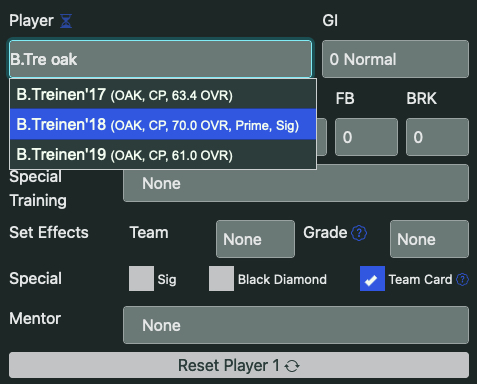 Autocomplete comes with a big bonus: Ohtani's pitcher years are now accessible in the Sandbox!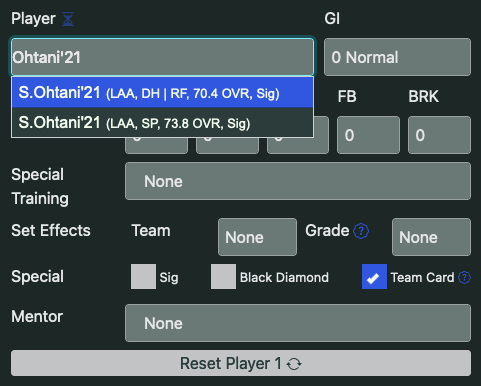 Previously, the tool didn't have a way to determine which Ohtani stats you wanted, so it was forced to always give the batter option. But no more! Now all you have to do is look at the position and pick the one you want to see.
Troubleshooting
Because this feature drastically changes how your browser asks my site for information, some users may experience issues initially. These are usually easy to resolve, and I'll walk you through the process here.
The first thing you should do is try the Sandbox in a Private or Incognito window. This will force your browser to update all resources from my site, allowing it to use the new feature. If that solves your problem, go back to the non-private window and follow these instructions for hard-refreshing the page.
If that doesn't solve the issue, please report it as a bug via my Contact Me form and I'll look into it as soon as possible.